Sawall turns his talents to gelato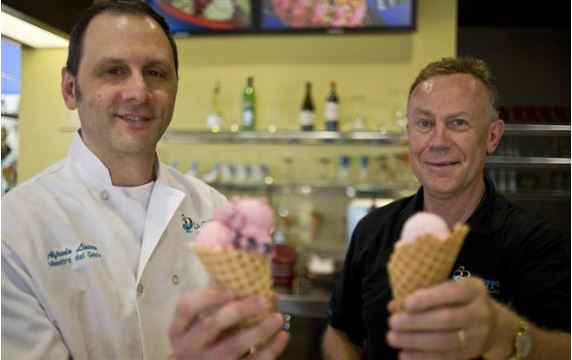 Alfredo Lincetto (left) and Arthur Sawall show off their gelato at La Coppa Gelato Café last week in Glendale. Sawall met Lincetto and his brother Maurizio while vacationing in Germany. Before long, Sawall and the Lincettos formed a partnership. Credit: Mark Felix
Arthur Sawall was raised in an apartment about half the size of an average motel room. His sister, parents and two great-aunts lived there, too — six people in 520 square feet.
No bathroom. The outhouse, shared with the residents of several other apartments, stood in back. No running water. Sawall's father hauled it into their tiny home in pails hung from a yoke slung across his shoulders.
Sawall was 9 when he came to the United States, smart in math but speaking no English. He learned it in part by watching television — the Three Stooges, Popeye, Bugs Bunny.
At 14, he began cutting lawns to earn money. By 16, he was running a drill press in a machine shop, and remained there to put himself through the University of Wisconsin-Milwaukee, the only college he could afford.
None of this hurt him. He emerged from UWM with an engineering degree, quickly landed a job with Square D Co. and, because he was fluent in German, Russian and, by then, English, won a plum European assignment.
Several years later he struck out on his own, starting a software firm that grew to employ 72 people before he sold it in 2008 for enough money that, had he chosen, he could have retired.
That didn't happen. Sawall did hone his tennis game. But he also kept working, turned to real estate investing and, now, at 55, is embarked on yet another venture: He's bidding to become Wisconsin's first Siberian gelato king.
•••
Sawall remembers the brittle snow in Siberia crunching beneath his hard felt boots, and the winter stillness. Sometimes the temperature hit 40 below.
"But to a kid it's just, that's the way you grow up, that's your environment," he said. "…The kids all would come out and we'd build these humongous igloos with windows and doors. Forts. Snowball fights."
This was in Tomsk, a city so deep in Russia's eastern vastness that it's much closer to Mongolia than to Moscow. Sawall's parents, ethnic Germans, had been held there in labor camps during World War II. Afterward, Stalin and his successors refused to let them leave. They could work — Waldemar Sawall was an electrician and Bertha was a seamstress — but for 20 years they couldn't venture outside Tomsk.
Meanwhile, Waldemar's brother Helmut and sister Lilly, who had emigrated to the U.S. and settled in the Milwaukee area, had been searching through the Red Cross for their sibling. They learned in 1958 that Waldemar was in Tomsk, but it was only after nine more years of effort, and repeated denials by Soviet officials, that the Sawall family was allowed to leave.
They landed in Chicago in June 1967. Sawall was amazed at the seeming abundance — cars everywhere, paved highways instead of dirt roads, a bathroom, all to themselves, inside their hotel room.
"My first impression was, in America, money grows on trees," he said.
•••
Sawall is trim, with wide, gray eyes and a friendly manner. He speaks Russian with his parents, German with his Italian business partners, and English with most everyone else. The only accent he has in the latter language is Wisconsin's nasal tone. He's been here so long he even swallows the "L" in "Milwaukee."
Things were tough at first. Sawall remembers wanting to go back to Tomsk, flush toilets or not.
But before long he was doing well at Engelburg Elementary on Milwaukee's northwest side, and later at Madison High School. He graduated there a year early by taking summer classes — while he worked full time at the machine shop. Sawall shrugs this off.
"You can do that easily," he said.
His childhood in the Soviet Union and the challenges of making a new life in a strange land, he said, taught him to push himself.
"It gave me the drive and the motivation," he said. "…Whatever you do you've got to do with enthusiasm and dedication and commitment."
After 10 years with Square D, Sawall in 1990 founded ECT International Inc. Initially a distributor for a German company, ECT later developed its own engineering design software for electrical control systems.
Among the firm's customers were multibillion-dollar outfits such as Procter & Gamble, Eaton, and Siemens. ECT's headquarters were in Brookfield, little more than a mile from Sawall's home and a few blocks from his parents' house, but the company also opened offices in England, China and India.
Bentley Systems Inc., a 3,000-employee, $550 million software firm based in Pennsylvania, bought ECT five years ago. Sawall became a Bentley vice president.
He also began buying real estate and investing in area hotels and apartment complexes. Among his plans are what he hopes will become a $25 million, 150-unit apartment development on a former cannery site in Sussex.
And there's gelato, the traditional Italian frozen treat that's sort of like ice cream, but denser and less fatty. Sawall and his family ate it regularly while vacationing in Germany, which is second only to Italy in its number of gelaterias.
•••
It turned out the owner of the Sawalls' favorite shop had two nephews — Alfredo and Maurizio Lincetto, third-generation gelato makers from northern Italy — who owned gelato shops in Munich but also were interested in taking their craft to the U.S.
Sawall drove to Munich, met them, talked with them, sampled their gelato and, eventually, struck a partnership. Last August, they opened La Coppa Gelato Café in Glendale's Bayshore Town Center. They added two shops in Madison earlier this year.
Maurizio and Alfredo toggle between Europe and the U.S. At the moment, Alfredo's here while Maurizio is tending to the brothers' three gelaterias in Munich. Neither speaks English, and Sawall doesn't speak Italian, so they talk to each other in German while working in La Coppa's small commercial kitchen in Brookfield.
Their creations win praise from Dierks Waukesha, a food wholesaler that has been distributing La Coppa gelato to white-tablecloth restaurants and other customers for about a year.
"He came in and he just blew the doors off of us, basically," Dierks buyer Paul Haefemeyer said of Sawall. "His product was so superior to what we had, and he had more variety. It was just outstanding some of the flavors he's come up with."
Haefemeyer estimates that Dierks' gelato sales have increased by 50% since the distributor switched to La Coppa.
Sawall and the Lincetto brothers have ambitions, but they also have a long way to go. Gelato commands a premium price — $3 for a single scoop at La Coppa — and it represents only a smidgen of the $6.6 billion frozen-dessert market in the U.S.
But many people see potential. By the rough estimate of Jillian Hillard, marketing manager for PreGel America, a subsidiary of an Italian firm that makes gelato ingredients, the number of gelato shops in the country has roughly doubled since 2008, to somewhere between 1,000 and 2,000.
The trend prompted PreGel to expand its U.S. operations about five years ago. Meanwhile, high-end ice-cream maker Häagen-Dazs did its own due diligence and recently launched a gelato line.
"It continues to grow," Chicago-based dairy industry newsletter publisher Donna Berry said of gelato's popularity here.
The way Sawall sees it, there's no reason American consumers can't acquire a taste for a premium product if the strategy is right and the quality is evident. Just consider Starbucks.
"I didn't think anybody was going to pay four bucks for a cup of coffee," Sawall said, "and look at them today."
•••
Sitting in the modest kitchen of their ranch house, with a big garden planted out back, Sawall's parents show the old photos Bertha has collected and kept so their children and grandchildren can know something of their heritage.
There's a picture of the barracks-like apartment building in Tomsk, many portraits of family members, and one of Waldemar shouldering the water-bucket yoke.
As difficult as things look to have been in Siberia, the struggles didn't end there.
Waldemar Sawall had help from his siblings when he got to Milwaukee, and he was able to find work as an electrician, but disability cut short his career and money got tight. As a teenager, Arthur wasn't just working for pocket change; his parents couldn't afford to buy clothes for him, let alone pay for college.
"There was nothing we could do," Waldemar said. "It was for us hard. But it was life."
Arthur says he keeps all this in mind.
"I never forgot the origins," he said. "I always tell my wife, we're very well- to- do right now, but if I have to in a pinch I could go back to my old lifestyle. Would I want to? No. But would I be able to go back and be content? Absolutely."
It's unlikely he'll be put to the test on that, regardless of whether the gelato venture succeeds. And to his 86-year-old father and 83-year-old mother, even that wouldn't make any difference.
"We're very happy with him," Waldemar said. "Very proud. Very proud."