Village of Waterford
Creamery, brewery, distillery could be part of $22M in Waterford redevelopment projects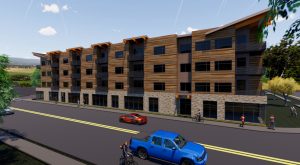 This rendering submitted to the Village of Waterford shows what Sussex developer Art Sawall hopes to build along the river on First Street. The four-story mixed-use building would be among $22 million in potential redevelopment of several Downtown Waterford sites, but Sawall is unsure the village could support his development. Submitted image
WATERFORD — About $22 million in redevelopment projects could be coming to various downtown sites spanning more than six blocks, with potential for a brewery, mixed-use residential and commercial buildings, creamery and distillery.
The projects, should they be completed, would be a culmination of the village's 2018 master plan update for the downtown area, said Village Administrator Zeke Jackson. But calling some of the plans anything more than ideas right now is premature, developers told The Journal Times.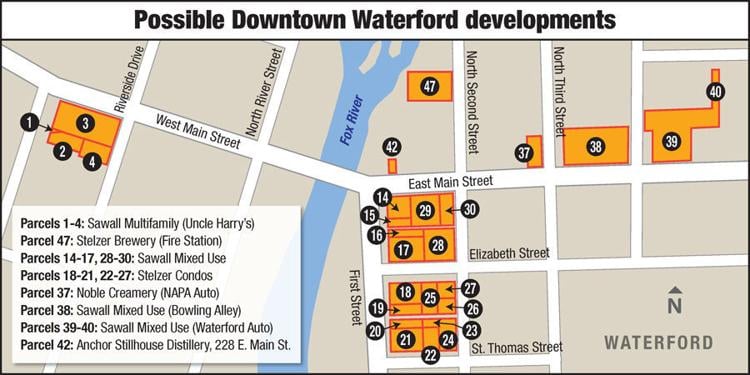 DAN TALSKY,
Housing
The most significant possibility is a four-site residential and mixed-use development spanning both sides of the river. Sussex-based Sawall Development is "very interested," according to owner Art Sawall, in building on the former bowling alley and Waterford Auto sites at 408 E. Main St. and 103 N. Milwaukee St.; a block on First Street between East Main and Elizabeth streets; and on the current Uncle Harry's site at the corner of West Main and Jefferson streets.
Sawall is in talks with the village to get the projects rolling, but he said he is hesitant because he is not sure the village's future growth potential could support the rents his luxury apartments would command — roughly $1,300 per month for a one-bedroom unit.
"What is the compelling reason for growth? And everybody's banking on Foxconn," Sawall said. "Well, Foxconn isn't there yet … the only way you're going to achieve the growth in Waterford, is you need the employer base."
Sawall Development is currently wrapping up construction on the luxury Granary Townhomes development in Downtown Union Grove, a place Sawall said he thinks is more primed to receive a bump from Foxconn.
"I'm banking on that the Foxconn effect will come to Union Grove, and there will be enough people looking for luxury properties out there," he said. "I'm not so sure that'll happen with Waterford."
That being said, Sawall stressed he is highly interested in the project, though he does not foresee bringing formal applications to Waterford until the spring. And the development would be on "all or none" of the sites, so just doing a couple buildings is not an option Sawall said he is considering.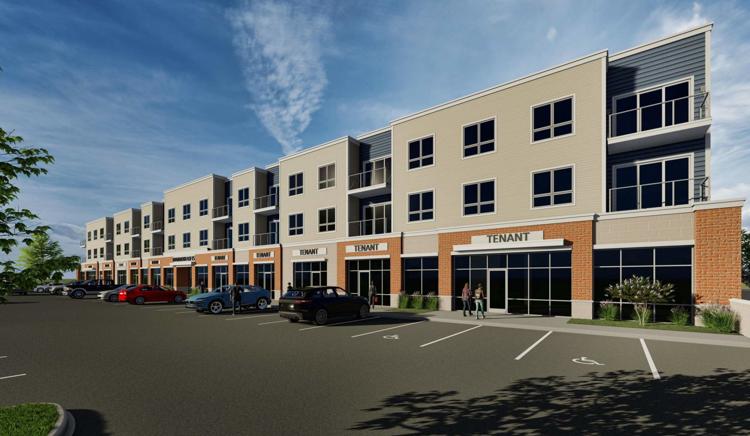 This rendering submitted to the Village of Waterford shows a three-story version of buildings Sussex developer Art Sawall hopes to build in the village. Sawall would plan for two stories for each building, with the option of converting first-floor apartments into retail space.
Town of Norway resident Aaron Stelzer is considering a four-building mixed-use condominium development at a yet-undetermined site, Stelzer said. Those plans are also incredibly preliminary, with no clear number of units or building size, Stelzer said.
"We're still working with the village," Stelzer said. "We don't want to create something they don't need, basically."
Stelzer said he sees Waterford as a market hungry for more housing.
"You look, really there's not many condos that are for sale; there's not anything for rent that's not filled up," he said.
Jackson said the Stelzer development is primed for the block of First Street between Elizabeth and St. Thomas streets, though Stelzer himself said he was considering other sites in the village as well.
Food and drink
Slightly more surefire developments are a few food and drink options.
Jay and John Noble, owners of Noble View Cheese Co., have received preliminary approval from the village Plan Commission to convert the former Napa Auto Parts building, 320 E. Main St., into a creamery. The creamery would produce and sell cheese, according to a permit application submitted to the village.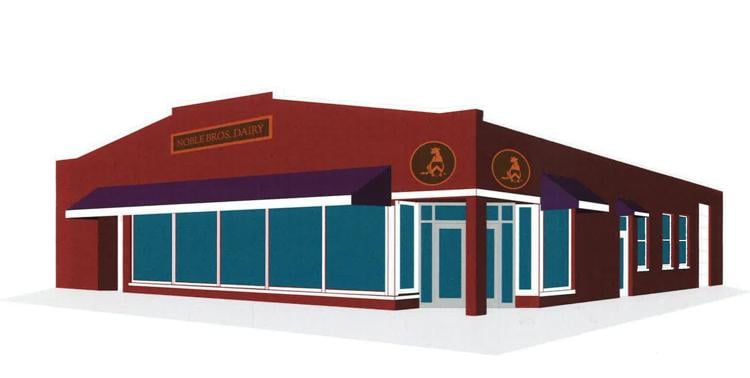 This preliminary rendering submitted to the Village of Waterford shows a possible creamery to be opened by local dairy farming brothers John and Jay Noble at the former Napa Auto building, 320 E. Main St.
But like the Sawall developments, the creamery is anything but set in stone, said Jay Noble, who purchased the Uncle Harry's business with his brother earlier this year.
"It's not as cut and dry as I was hoping, buying the building and moving forward," he said. "I've got somebody in front of us (to purchase the building) who wants to rent it to us. That's one of the moving pieces we've got to get control of first."
As to what the brothers plan for the creamery, Jay Noble would not reveal information beyond what was on the application.
Just a block west, Town of Waterford residents Tammie and Brandon Begotka are planning to open a distillery at 228 E. Main St., where Flowers by Chrissy was formerly located.
The Begotkas have purchased the building and are currently working toward obtaining a federal distilling permit, according to Jackson. The couple has also registered a limited liability company, Anchor Stillhouse Holdings, which is the formal owner of the building, state and county records show.
Stelzer also hopes to lease the village's vacant retired fire station in the 100 block of North Second Street and turn it into a brewery, for which he plans to partner with a master brewer. He said he already has a partner who "has been in the business for a long time," but did not want to release the brewer's name yet.
"I think it's going to be something that's missing in the area," Stelzer said. "It's going to be a Waterford brewery."
Timeline
Jackson said the village is planning to have all of these projects finished by 2021, to be completed in two yearlong phases.
The first phase, planned for 2020, would include the brewery, creamery and Sawall's residential developments at the Uncle Harry's, Waterford Auto and bowling alley sites. Those Sawall developments would first be built as two-story apartment buildings with the option of converting the first-floor units to retail, Sawall said.
In the second phase, planned for 2021, would be Sawall's four-story waterfront mixed-use building on First Street and Stelzer's mixed-use condos.
Reporter
Jonathon Sadowski covers the greater Union Grove and Waterford areas, entertainment and odds and ends for The Journal Times.