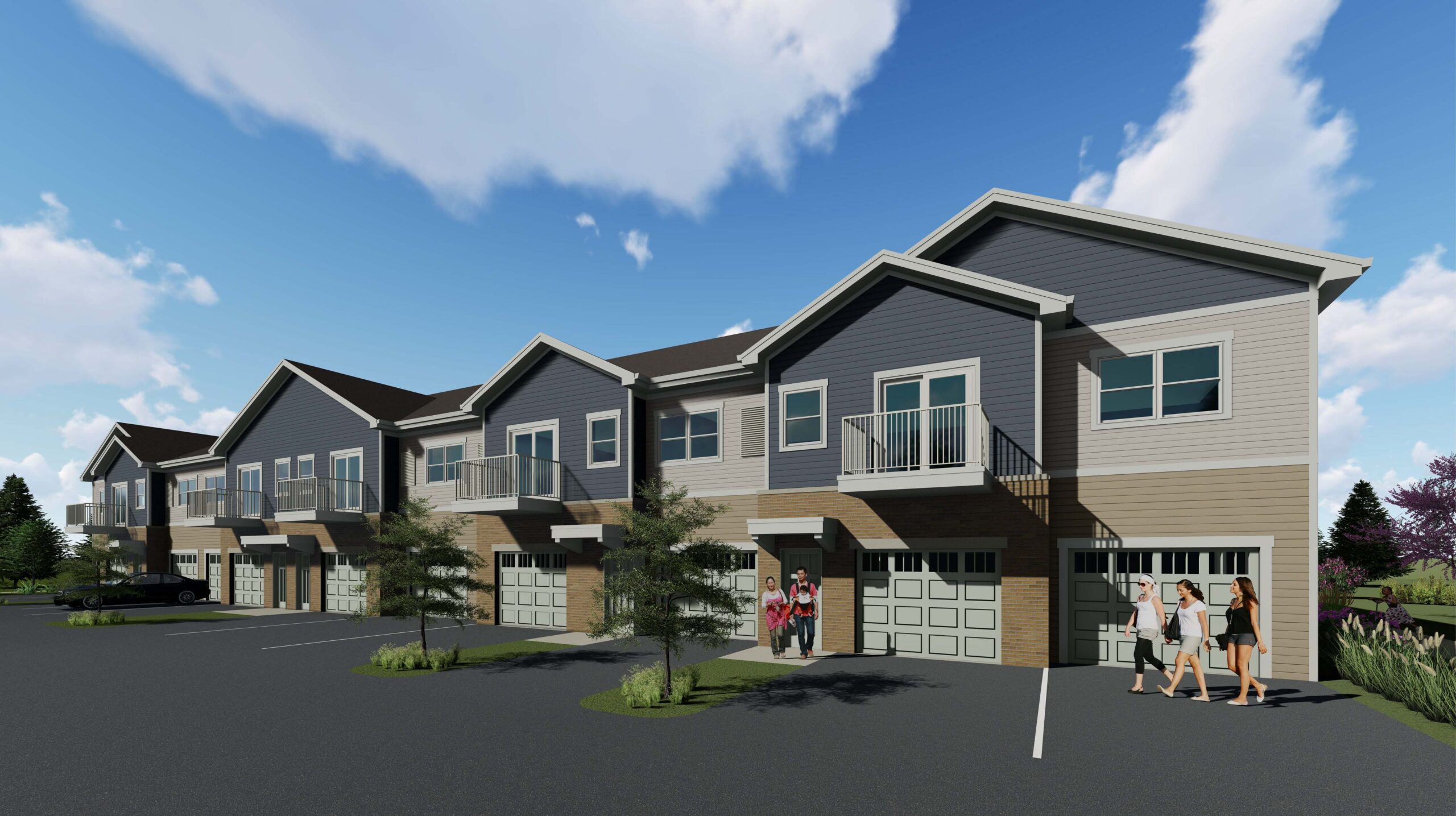 PURE ARCHITECTURE STUDIO LLC
A rendering of the new Rock Pointe Village
apartments Sawall is developing in the village of
Lannon
Arthur Sawall is taking a different approach for 264 apartments he's building in the village of Lannon, cutting development costs wherever possible to make the monthly rents affordable to more people.
Sawall, like other Waukesha County developers, historically has focused on building luxury apartments. At his Mammoth Springs developments in Sussex, Sawall rents a onebedroom townhouse apartment for $1,300 to $1,400 a month. The cost of development is a major factor that rents must be that high.
Sawall's Rock Pointe Village apartments in Lannon are $200 or more cheaper a month, retaining the townhouse building design with attached garages. A one bedroom townhouse with 740 to 850 square feet will rent for $1,100, for example. That difference means he can rent to people who don't qualify for luxury apartments, or are simply unwilling to pay that much in monthly rent, he said.
"We actually turn away quite a few people who don't qualify, good people: A truckdriver, someone who works at (Quad/Graphics Inc.), somebody who works at Community Memorial Hospital. Good, hard-working people." Sawall said.
Sawall breaks ground this week on the first phase of a project that will eventually cover 50 acres west of Community Memorial Hospital at Custer Lane and Highway F. The first phase's 81 apartments and clubhouse will cost $15.5 million to develop when everything is added up, Sawall said.
There's a long list of reasons Sawall Development, Sussex, is able to charge lower rents for the Lannon apartments.
"We're cutting costs any place we absolutely can," Sawall said. "You put a multitude of things together, a little bit here, a little bit there, and all of a sudden you are able to hit that price point."
A big saver was using vinyl siding, which some Waukesha County communities don't allow, Sawall said. Kitchens have laminate countertops instead of more expensive granite, and black-finished appliances rather than stainless steel. Buildings are squared off without many bump-outs, saving on construction costs.
The village of Lannon passed new ordinances specifically for the project to allow more apartments on each acre. That wouldn't happen without buy-in from the local leaders, who Sawall said reached out to his firm.
Management costs will be lower because Sawall will do that in-house, he said. His company will also oversee construction of the buildings. He recently negotiated with a subcontractor to shave $3,200 from the budget of demolishing five houses
on the property.
The lender is First Business Bank in Madison, which is closing on the financing Tuesday, Sawall said.
"It had to appraise out, which it did," he said. "The appraiser we worked with was actually pleasantly surprised."
The first buildings will be available for move-in May 2021, Sawall said. Construction starts next year on the second phase, with the final starting in 2022, he said. He predicted about 700 people will live there once all the apartments are completed and occupied.
"We're relatively confident – as confident as you can be nowadays – that we'll be able to lease it up pretty much immediately," Sawall said.

Sean Ryan
Reporter
Milwaukee Business Journal