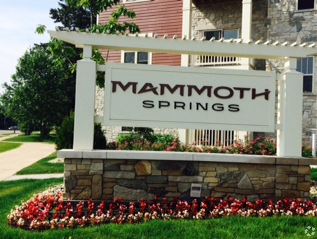 VILLAGE OF SUSSEX — The 89-unit Mammoth Springs South residential development on Silver Spring Drive has proven such a success since its establishment just last year that developer Arthur Sawall is proposing an offshoot of the development, to be called Mammoth Springs Lofts.
The new extension would be on Silver Spring Drive and Main Street, "a stone's throw away" from its current site, according to Sawall.
The new development would feature 60 residential units with underground parking, and two spaces for retailers on a corner or two of the main level.
The plans are so new that they have not come before the Sussex Plan Commission, nor have renderings been drawn up yet, and square footage is not yet set in stone.
Sawall estimated it will be another three or four months before it goes before the village for review.
But if the plans move ahead, the groundbreaking for the development could be as early as August 2018, he said, and ready to lease as soon as spring 2019.
Sawall said he would need to reach 95 percent occupancy at the current Mammoth Springs development before he could break ground on the new project, but he's nearly there.
Success at Mammoth Springs South
The existing Mammoth Springs development is still under construction. The 18-unit Building K opened for residents to move in on Friday, Sept. 1.
The last building under construction is L, which is expected to open Oct. 15. On that building, 12 units have already been preleased.
In total, Sawall's development is at 70 percent occupancy.
The demographics for his development surprised Sawall completely.
"I couldn't have been more wrong about what I thought my target market would be because you name it, it's everybody," Sawall said.
A high number of millennials occupy units in Mammoth Springs, but there's also a mix of retirees.
Sawall said his young residents tell him the location is great, a quick drive to downtown Milwaukee, and the rent is about $300-$500 cheaper than they can find in Wauwatosa and Brookfield.
Mammoth Springs Lofts
The 60-unit development would be mostly one-bedroom units, starting at about $1,200 per month. A few two-bedroom units would also be available, with rental prices at about $1,650.
The new development is something that really hasn't been done before, Sawall said.
The idea is to stick with the brick and stone exterior — in style with the Sussex Civic Center on the same street and other downtown buildings — but, he said, with an added contemporary flare.
"I am trying to do a downtown-style building in a suburb," Sawall said "I think there's a lot of demand, and it will have get market appeal. I'm going to have high ceilings and a more-open concept."
The loft-style units are valued by renters, Sawall said.
"They're very popular, and if you had asked me three years ago to do a loft-style building in Sussex, I would have laughed at you, but now I'm seeing the type of residents I'm getting, and it makes all the sense in the world," Sawall said.
The development would have a small gym and community center. Sawall is also thinking of incorporating a rooftop area for residents to grill — pending fire inspector approval — or to enjoy a drink on a hot summer day.
Prospective retailers
Mammoth Springs South has a coffee shop, dentist office and hair salon.
RELATED: Sussex's newest hair salon allows employees to be entrepreneurs
Sawall has a vision, which is shared by some Mammoth residents he has spoken with, for the two retailer spaces in Mammoth Springs Lofts.
He also said some retailers have "put feelers out" about opening a business in the new development, but it's too early to name them.
"One of the things I look at just around this area — and I don't live here, but close to here, and my office is here — so I would like to see a restaurant/brew pub," Sawall said. "Maybe an upscale restaurant, now I don't mean high end, but something where you could get a decent steak. You have to go basically to Brookfield if you're looking for that."
Additionally, Sawall said a dry cleaner is a necessity.
"I'm hearing that from my residents that there's no dry cleaner nearby," Sawall said. "Who knows? Maybe we'll get some other kind of store in there eventually, too."